Drone Infrared Imaging
Roof Infrared Interpretation
Yes the roof above does have leak issues. The roof is a BUR roof and the gravel is spread evenly across the roof (meaning the roof should have cooled off at the same temperature which it did not).
Can you just look at a roof infrared scan and tell what is going on?  Are all the red areas on the scan a roof leak?  Are there some roofs that can't be scanned?  These questions will be answered in this blog post.
Question #1.
 First off, there are so many different roof membranes producing so many levels of radiant heat that a hot spot could mean many things.  For example a large area of ponding water could cause the membrane to be cooler than it should be.  Another example could be repairs that are black in color could produce hotter than usual temperatures.  This would lead one to believe that the roof has leaks in all of those areas.  This is why it is very important to have someone like Drone Infrared Imaging with 30 years of commercial roofing experience interpreting what the infrared scan is revealing.
Question #2.
 There are different palettes of color that Flir Camera can be set at, so saying that all the spots that are red are leaks won't work.  Even if it is set at a rainbow setting, red spots could come from many different avenues.  HVAC units (see picture) in the summer operate very hot and can cause the membrane to stay warm longer.  Different membranes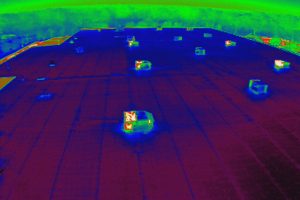 used on the same roof systems for repairs.  Even tar that has bled through the gravel of a BUR roof system can cause hot spot.  My point here is you need to know your membranes and the ambient heat that they produce.
Question #3.
 For the last question the answer is yes.  One example is a EPDM Ballasted Roof.  The ballast stays at a consistent temperature masking the real temperature of the EPDM under the ballast.