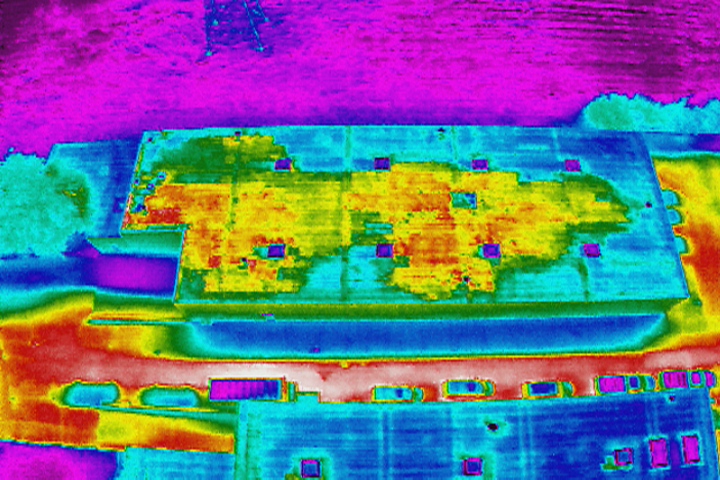 Thermal imaging cameras along with drones are being used in many more Chicago area industries than ever before. One of the most common is the roofing industry. Low slope roofs can now have an infrared scan taken of the whole roof allowing for detection of hot spots or moisture infiltration caused by leaks in the roof membrane. Other Chicago areas such as cell towers, water towers, electric lines, industrial stacks, search and rescue, fire departments and agriculture benefit from drone usage.
GET THE REAL PICTURE IN A ROOF SYSTEM
Everything in life has a temperature and can be measured. You could say, wow that's really cool but what does it do for me? In a Chicago area flat roof system, the ambient temperature (temperature of the air) is where you want your roof to get to as quickly as possible after the sun goes down this is called emissivity (the time it takes to get to ambient temperature). If areas of the roof stay hot usually that is an indication of moisture that has gotten through the roof system and into the insulation. This helps us make decision regarding that system with the help of drones. Is the roof too saturated with water? Does the roof need to be replaced? Can the roof still be repair? Can the roof be reroofed after the wet insulation is removed?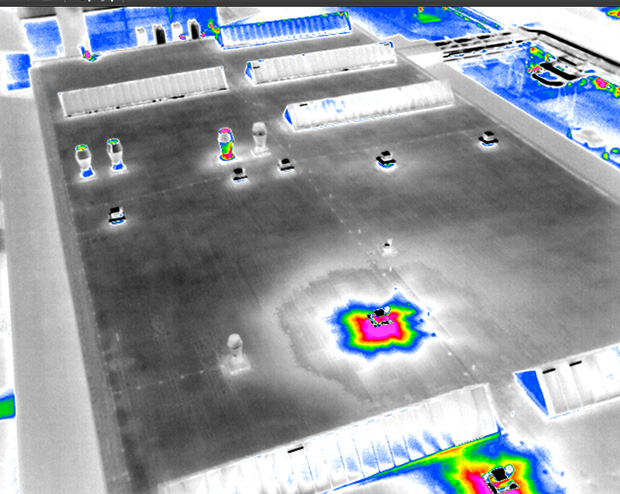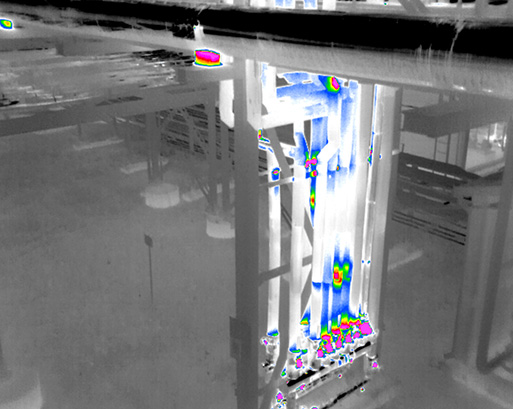 GET THE REAL PICTURE IN OTHER AREAS
Because everything in life has a temperature, there is a certain range of temperature that everything is supposed to operate in Chicago. Not range everything is the same but there is a range. Engines should run at a certain temperature. Electric power lines also should have a range of temperatures. Photovoltaic Solar should operate at another temperature. Managing these temperature allows things to operate correctly. Strong variations in temperatures usually means two things, it either needs to be replaced or it needs to be fixed. If you're interested in learning more about Drone Infrared Imaging please contact us today.
Testimonials From Our Clients
Hi everyone Emanuel from Bolingbrook.  I was so impress with Joel from Drone Infrared Imaging that I have told my sister and my good friend about him who have also used him.  He came in with his flying drone to assess my roof and gave me the best solution.  I think he should fly his drone over my roof after every major storm... LOL.
Joel flew his drone over my roof only to find out that the shingles that were on the ground were not from my house.  He told me that my roof was safe and sound.  He provide a link to pictures and video which proved what he said.  Joel was prompt, thorough and professional.  In the future, I would recommend him and his company.
Fantastic service, extremely knowledgeable and solution focused.  Joel responded to my call immediately.  He provided a solution and was able to carry through with the required work on time at the right price.
I have known Joel over 25 years. In that time I have known him to be a man of great character. Having worked with him on both residential and commercial roofing projects he proved to be knowledgeable, trustworthy and simply an expert in his field.
I've known Joel, both professionally and personally, for over a decade.  In that time, I've seen his character, hard work, and commitment to the highest levels of customer satisfaction in action.  If you are interested in working with an individual who has extensive experience, is a person of integrity, and will go above and beyond what is expected look no further - Joel Showalter is the one to choose.